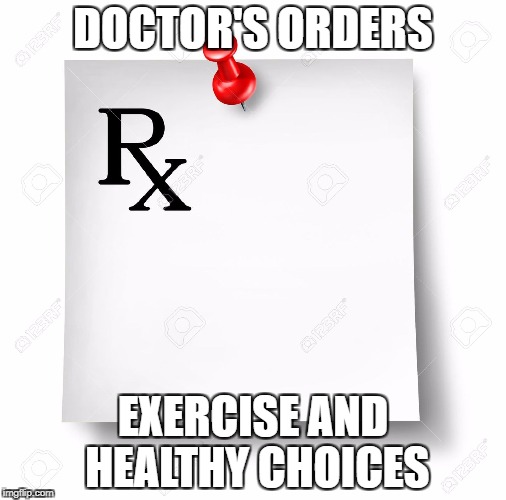 Doctor's Orders!
What would you do if you went to your doctor expressing concerns about:
How to lose weight
Stress due to work or home life?
Getting type 2 Diabetes, osteoarthritis, obesity or heart disease?
Getting older losing your memory?
Sleeping
Believe it or not, your Dr. could have the same prescription for all of the above scenarios. To your surprise, the prescription is EXERCISE and HEALTHY CHOICES!
In a perfect world, your doctor would not reach for the list of pills and potions that are designed to "cure" all that ails, but instead writes a prescription for 150 minutes of moderate aerobic activity (which is the recommendation from the Department of Health and Human Services) and a low processed diet filled with fruits, vegetables, healthy fats, protein and carbohydrates.
Would you be jumping up and down that you don't need to take medication or slightly panicked because that prescription is not easy to fill. You are now left wondering how to add exercise into your life and make all those healthy diet changes as well. Many Dr.'s have a tendency to leave that part out. Actually, many leave all of it out, (the "prescription for exercise and a healthy diet) and the harder part of how to implement it all.
Exercise and a healthy diet can cure a lot with only positive side effects. With any luck, this will become part of the prescription of the future for all of us. If you are fortunate enough to have that prescription, (as opposed to meds) but don't know where to start, think about identifying one small change at a time that will begin to help you with your health and wellness goals.
It is not realistic to be sedentary and then implement 150 minutes per week of exercise or a diet that is filled with overly processed foods and unhealthy fats to clean eating tomorrow. Think about one change at a time.
Take a walk
Play with your kids
Park further from your destination
Rake the leaves
Learn how to make better food choices
Keep it simple, but start to move and follow your Dr.'s orders!